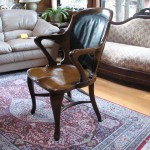 This chair connects me to my grandfather, in a curious way. Here's the connection:
Back in 1903 Clifford Sifton, the Member of Parliament for Brandon North and Canada's Minister of the Interior from 1896 to 1905, recruited farmers from overseas to help settle our country's vast prairie farm lands. A member of the Laurier government from 1896 until 1911, Sifton had the added responsibilities for immigration and land settlement. Historical records depict Sifton as a ruthless, domineering politician, disliked by some of his own Liberal colleagues. But he was effective and grudgingly earned the respect of friend and foe alike. Born in 1861, Sifton died in 1929.
My grandfather, Robert Klock Smith (1859-1931) from Oak Lake, Manitoba was one of the Canadian farmers selected by Sifton to help recruit British would-be farmers. His daily diary in 1903 tells a fascinating story of his sea voyage to England and the many officials and potential farmers he interviewed. RK's political leanings probably had something to do with his selection, and Sifton's career was dogged by – never proven – accusations of favouritism and patronage for Liberals.
Clifford Sifton's son, Victor Sifton (1897-1961) is described by the Manitoba Historical Society as follows:
Born in Ottawa, he left the University of Toronto to serve in World War One, demobilized with the rank of major and the Distinguished Service Order. He worked as a broker during the 1920s, and then took over the Regina Leader-Post when the Sifton empire gained control of it. In 1935 he moved to Winnipeg as general manager of the Free Press. During part of World War Two he served as an executive assistant to the defence minister; he was named a Commander of the Order of the British Empire. He served as president of the Canadian Press from 1948 to 1950 and as chancellor of the University of Manitoba from 1952 to 1959. He was the author of Rights and Citizenship: The Threat to Our Freedom (1954). He died in Winnipeg.
In the late 1960's, Joy's cousin Bert Rathbone sold us a chair that we think he purchased at a furniture auction in Winnipeg. Purported to be Victor Sifton's Winnipeg Free Press office chair, it IS beautiful and we placed it proudly in our Winnipeg home and later (1971) moved it to Gwenmar, our Brandon-area home. When we moved to Qualicum Beach, B.C. in 1998 we took the chair with us. It had to be repaired once as some of the joints were loosening but it remains a fine, old piece. It was Joy's brother Dennie's (1931-2007) favourite place to sit when he came to our home. "It's a good fit!" he used to say as he lowered his large frame into the accomodating chair.